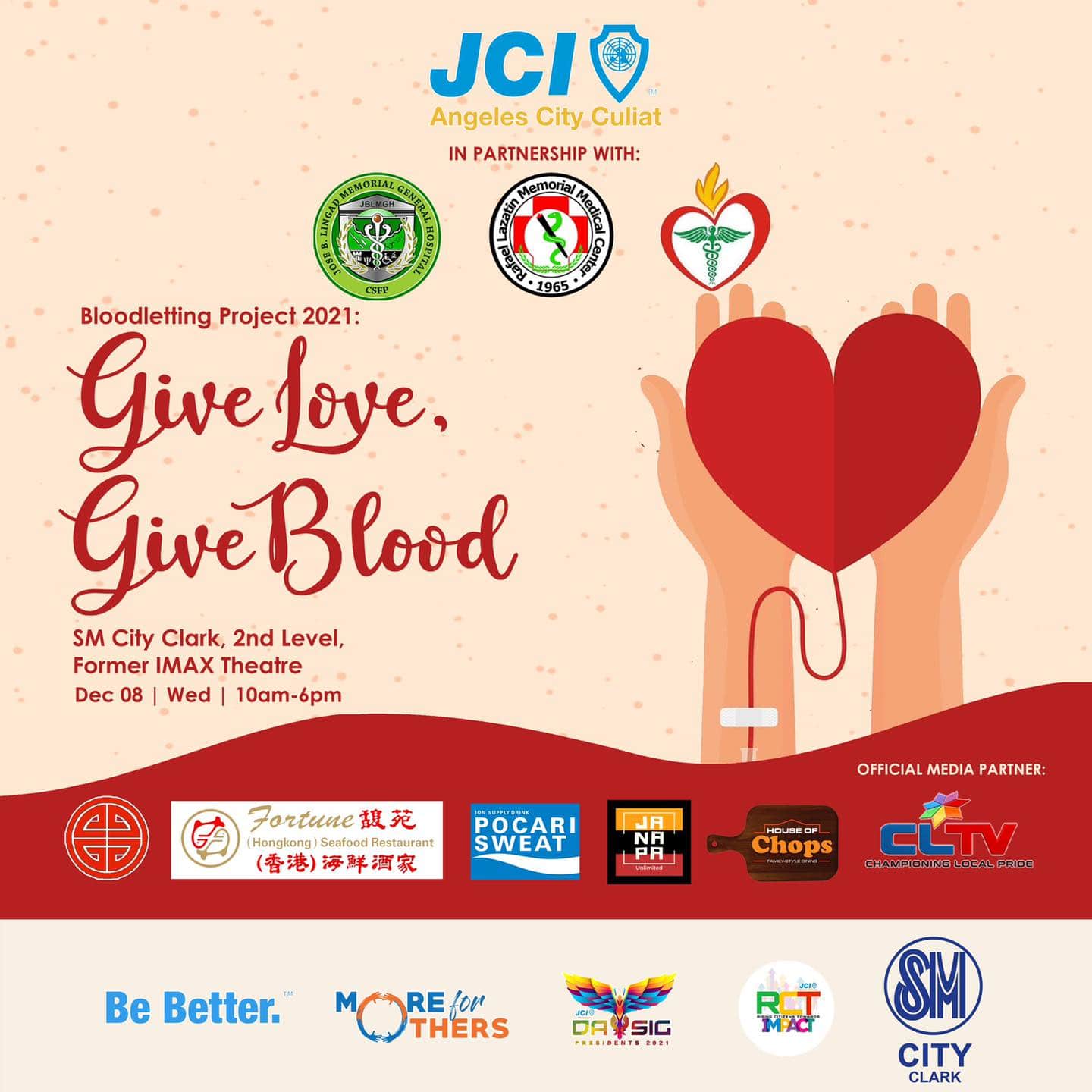 Blood Donation Project: Give Love, Give Blood 2021
Everyday, blood donors help patients of all ages. Take an active part in sustaining our City's Blood Bank!
Donate blood and help save someone's life in the future.
𝐒𝐮𝐩𝐩𝐨𝐫𝐭 𝐉𝐂𝐈'𝐬 𝐁𝐥𝐨𝐨𝐝𝐥𝐞𝐭𝐭𝐢𝐧𝐠 𝐏𝐫𝐨𝐣𝐞𝐜𝐭 𝐟𝐨𝐫 𝟐𝟎𝟐𝟏, 𝐢𝐧 𝐩𝐚𝐫𝐭𝐧𝐞𝐫𝐬𝐡𝐢𝐩 𝐰𝐢𝐭𝐡 𝐉𝐨𝐬𝐞 𝐁. 𝐋𝐢𝐧𝐠𝐚𝐝 𝐆𝐞𝐧𝐞𝐫𝐚𝐥 𝐌𝐞𝐦𝐨𝐫𝐢𝐚𝐥 𝐇𝐨𝐬𝐩𝐢𝐭𝐚𝐥, 𝐑𝐚𝐟𝐚𝐞𝐥 𝐋𝐚𝐳𝐚𝐭𝐢𝐧 𝐌𝐞𝐦𝐨𝐫𝐢𝐚𝐥 𝐌𝐞𝐝𝐢𝐜𝐚𝐥 𝐂𝐞𝐧𝐭𝐞𝐫, 𝐚𝐧𝐝 𝐒𝐚𝐜𝐫𝐞𝐝 𝐇𝐞𝐚𝐫𝐭 𝐌𝐞𝐝𝐢𝐜𝐚𝐥 𝐂𝐞𝐧𝐭𝐞𝐫.
Happening this 8th of December 2021 at SM City Clark, IMAX Cinema, 2nd Level. From 10:00am to 6:00pm.
For inquiries, kindly contact BJC William Banal at 0961-469-2398.
𝐆𝐢𝐯𝐞 𝐋𝐨𝐯𝐞, 𝐆𝐢𝐯𝐞 𝐁𝐥𝐨𝐨𝐝! 𝐒𝐞𝐞 𝐲𝐨𝐮 𝐚𝐥𝐥 𝐭𝐡𝐞𝐫𝐞!
#CAIyaNatinTo #RCT #JCIAngelesCityCuliat #JCICentralLuzon #JCIArea1 #HomeofGreatLeaders #JCIPhilippines #MoreForOthers #StrongerTogether